BLET WEEKLY NEWS RECAP 10-6
The BLET exists to promote and protect the rights, interests, and safety of its members through solidarity, aggressive representation, and education.
BLET WEEKLY
NEWS RECAP
October 6, 2023
Follow the BLET online and stay up-to-date on all the latest union news and information.
Click the icons below to visit the BLET's social media pages and website.
SIGNIFICANT GAIN: BLET members ratify quality of life agreement with BNSF that provides work/rest improvements, paid sick leave
The four BLET General Chairmen reported on October 3 that a majority of BLET Divisions representing locomotive engineers on BNSF Railway ratified a system-wide agreement that improves the quality of work-life balance for approximately 8,000 locomotive engineers.

Highlights of the agreement include:
• Work/rest options that can be implemented in every pool;
• Ability to create alternative schedules for assigned service;
• Up to eight paid sick leave days;
• Ability to take paid sick leave without penalty under the attendance policy;
• The opportunity to earn an "Earned Day Off" (EDO) quarterly; and
• Away from home terminal (AFHT) meal improvements, bereavement leave change, and AFHT agreement enhancements.

The four BNSF General Chairmen — Robby Cunningham (former AT&SF), Jeff Thurman (former STL-SF), Troy Martin (former C&S, CRI&P, FWD), and Kent Psota (BNSF/MRL) — and their General Committee Officers thanked their members for ratifying this milestone agreement that will greatly improve quality of life for members. They said, "We will continue our best efforts to negotiate meaningful improvements to the pay, quality of life, and working conditions for the members we represent."

Additionally, the General Chairmen thanked National Vice President Billy Lyons for his assistance in this endeavor.
PARTY CRASHERS: BLET demands new contract in the midst of NJ Transit's birthday celebration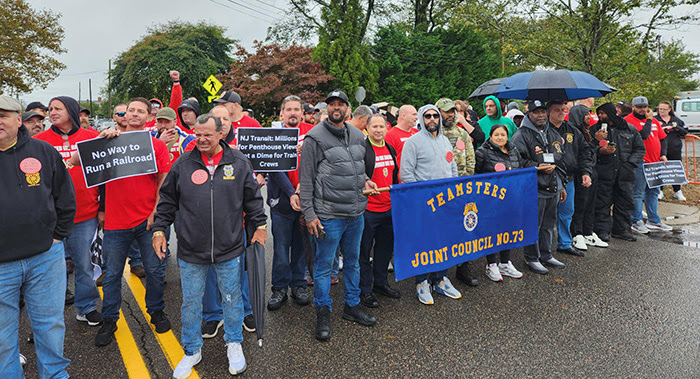 Members of Teamsters Joint Council 73 joined the BLET's NJ Transit rally on September 30.
The BLET is continuing to use every legal means necessary to secure a new contract at NJ Transit. On September 30, about 150 BLET members and fellow Teamsters crashed a would-be birthday celebration for NJ Transit at a train stop in Bay Head. The railroad had scheduled a train ride featuring vintage rail cars to mark its 40th anniversary, but as reported by NJ.com, a large throng of BLET members crashed the party.

"We're out here to point out NJ Transit's hypocrisy," said General Chairman James Brown. "For 40 years, they've been underpaying their engineers. NJ Transit claims they have no money. They're misleading the public and their employees. But they have $440 million for a new office building. That's very frustrating for their employees."

In the midst of contract negotiations with the BLET earlier this year, NJ Transit announced that they would spend more than $440 million to lease luxury office space, but have failed to make an acceptable offer to BLET members at the bargaining table. NJ Transit's locomotive engineers have been seeking a new contract since October 2019.

BLET National Vice President Jim Louis said: "Four years without a contract is enough. The men and women who work these trains every day all through COVID-19 are trying to support their families. All they're asking for is to get paid like other engineers in this area. Plain and simple. NJ Transit just fails to do any type of real negotiations with the union."

A video from the September 30 rally shows NJ Transit CEO Kevin Corbett refusing to speak to the media regarding negotiations.

RAIL SAFETY: Unions want scrutiny of remote control trains after death of worker in Ohio rail yard
In a major national news story published on October 6, the Associated Press has reported on the BLET's demand for more scrutiny of remote control train operations after a CSX carman was killed in mid-September by a remote control train at Wallbridge Yard near Toledo, Ohio.

Remote control operations help railroads limit costs by using less experienced workers to move locomotives that help assemble trains — a task that once required licensed engineers who are among the highest-paid rail workers. By doing so, rail carriers are putting profits ahead of safety. "They are the least-experienced people that are handling these trains," Eddie Hall, National President of the BLET, said of remote control rail yard operators.

Hall and other BLET officials have told the Associated Press they believe that railroads are "gambling with safety" with the way they use remote control trains both inside and outside of rail yards. The BLET is especially concerned about railroads using remote control trains farther and farther outside of rail yards — as much as a couple miles — to move trains with dozens of cars, including some carrying hazardous materials.

The full story is available on the Associated Press website.
GCA NEWS: Ronnie Rhodes reelected UP-Central General Chairman
The Union Pacific-Central Region General Committee of Adjustment held its quadrennial meeting in Little Rock, Ark., on October 3, 2023.
Ronnie E. Rhodes was reelected to his fourth full term as General Chairman at the Union Pacific-Central Region General Committee of Adjustment's quadrennial meeting in Little Rock, Ark., on October 3, 2023. Brother Rhodes and all officers were elected by acclamation. The BLET's UP-Central Region General Committee of Adjustment encompasses 17 BLET Divisions and represents nearly 2,000 active and retired members.

Read the full story here.
OUR BEST AND BRIGHTEST: 20 BLET families win Hoffa scholarships for 2023-24 school year, including five $10,000 winners
Since 2000, the James R. Hoffa Memorial Scholarship Fund (JRHMSF) has been awarding college scholarships to the sons and daughters of Teamsters. The Fund relies on the generosity and support of Teamsters local unions, Joint Councils and friends. In 2023, the JRHMSF awarded $1.2 million in academic and vocational/training programs — including awards to 20 BLET families. The fund awards $10,000 academic and $1,000 "bootstrap" academic scholarships plus awards to students pursuing vocational/training programs. The application process for next year will begin in November 2023, and the deadline each year is typically in early March. For more information, please visit the James R. Hoffa Memorial Scholarship Fund website.

Click here to see the full list of BLET winners. Congratulations!
SIGN UP TODAY: Open enrollment for 2024 Health FSA to run from now to October 31, 2023
Don't miss out: Open enrollment to change you Medical or Health Flexible Spending Account (FSA) is available from now until midnight on October 31, 2023.
From now until midnight on October 31, 2023, you can enroll or change your Medical or Health Flexible Spending Account (FSA) benefit selections for the 2024 benefit year. Members must enroll in the Health FSA every year — FSA enrollment is not automatic each year, and interested members should act soon so they do not miss out on enrollment for the 2024 Plan Year.

A negotiated benefit obtained in the 2012 National Agreement, the Health FSA lets you put pre-tax dollars deducted from your paycheck into a special account to help pay for eligible medical, pharmacy, dental and vision expenses. When you enroll, you choose your FSA contribution amount. You can contribute as little as $10 per month ($120 annually), all the way up to $254.16 per month ($3,050 annually). If the IRS raises the maximum in 2024, you will be able to elect up to that amount.

Administered by United Healthcare, the Health FSA provides you with a special Health Care Spending Card to easily pay for eligible FSA expenses. The Card is connected to your flexible spending account, so there is no need to write checks or submit claim forms.

Your Track to Health is your online enrollment site — it provides the ability to view your personal information, update dependent information, view enrollment materials, or opt out of coverage. Go to www.yourtracktohealth.com or www.ytth.com to learn more. If you need further assistance or require a paper enrollment kit, please call Railroad Enrollment Services at 1-800-753-2692 (Monday-Friday, 8:00 a.m.-8:00 p.m. EDT).

Read the full story on the BLET website.
MEMBER BENEFITS: Exclusive wireless savings with AT&T
BLET members have access to a number of wireless discounts and savings when they enroll in AT&T's Signature Program through Union Plus.
Millions of union members, staff and their families are eligible for exclusive wireless benefits through AT&T's partnership with Union Plus. That includes the BLET and its members. The Union Plus program offers all union members wireless discounts and other wireless savings when members enroll in AT&T's Signature Program, but many members are still not taking advantage of these exclusive benefits.

AT&T is the only unionized wireless carrier with negotiated wireless discounts that deliver even more value and savings for union members, including:

• Savings of $10 per line per month on the AT&T Unlimited Premium plan
• Up to $50 savings on activation and upgrade fees
• 15% off qualified wireless plans
• 20% discount on eligible accessories
• Exclusive limited-time offers

Members can see additional savings during the Union Plus "October sWitch & Save" promotion. Click here for details and start saving!
Brotherhood of Locomotive Engineers & Trainmen
7061 East Pleasant Valley Road, Independence, Ohio 44131
PH (216) 241-2630 | www.ble-t.org
If you are a member of the BLET, then please consider signing up for the Members' Area of the BLET website:
members.ble-t.org

Brotherhood of Locomotive Engineers and Trainmen · 7061 East Pleasant Valley Road · Independence, OH 44131 · USA