BLET WEEKLY NEWS RECAP 10-20
The BLET exists to promote and protect the rights, interests, and safety of its members through solidarity, aggressive representation, and education.
BLET WEEKLY
NEWS RECAP
October 20, 2023
Follow the BLET online and stay up-to-date on all the latest union news and information.
Click the icons below to visit the BLET's social media pages and website.
COLORADO: Fatal BNSF derailment leads lawmakers to call for more rail safety measures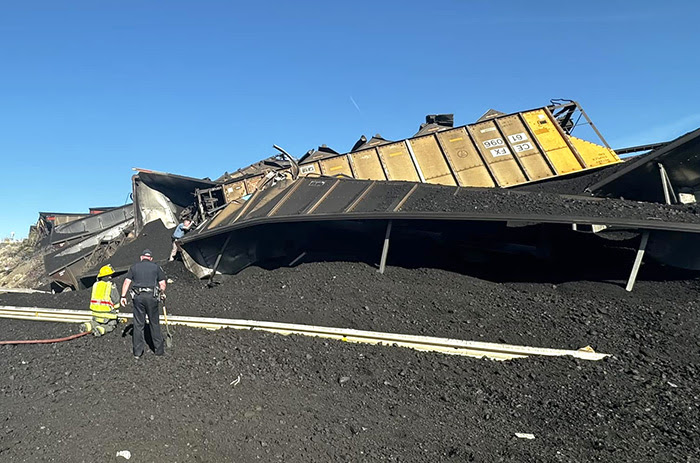 A truck driver was killed in this October 16 BNSF derailment in Pueblo, Colorado.
Photo: Pueblo County Sheriff's Office
Rail safety laws are receiving renewed attention after a truck driver was killed in a BNSF derailment near Pueblo, Colorado, on October 16. The derailment caused a railroad bridge to collapse onto a major highway — crushing the semitruck, spilling coal, and leaving mangled rail cars across the roadway. The highway, Interstate 25, was completely closed for several days.

After the derailment, a coalition of Colorado State Senators wrote:

"As Senators who have placed a heightened focus on transportation issues in both the legislature and our private careers, we are disappointed, but not surprised by [the October 16] derailment in northern Pueblo County. We are aware of numerous safety issues with our rail system in Colorado, which is why earlier this month, the Transportation Legislative Review Committee voted to approve legislation for the upcoming session of the General Assembly to address those concerns including limiting train length, increasing safety inspections, and including detectors to identify train defects in real time… We are committed to seeing this legislation's passage as quickly as feasible, so that we may immediately work to reduce the risk of accidents like the ones in East Palestine and Pueblo." The coalition includes: Senate Assistant Majority Leader Faith Winter, D-Broomfield, and Senators Lisa Cutter, D-Jefferson County, Nick Hinrichsen, D-Pueblo, Sonya Jaquez Lewis, D-Longmont, and Kevin Priola, D-Henderson.


BLET Colorado State Legislative Board Chairman Paul Pearson has been working with the State Senate on the aforementioned rail safety legislation. It would limit train length to 8,500 feet, among other safety improvements. The state passed a two-person crew bill in 2019.

In its preliminary investigation into the October 16 fatality, the National Transportation Safety Board said a broken rail likely contributed to the derailment. Members of the BLET Safety Task Force have been granted Party Status to assist the NTSB with its investigation. Five locomotives were pulling 124 train cars at the time of the derailment. The train crew was not injured. Killed in the crash was truck driver Lafollette Henderson, 60, of Compton, California. He is survived by six children and 15 grandchildren.
GCA NEWS: Mid-Term Meeting for NS-Northern Lines GCA
Members and guests attending the NS-Northern Lines GCA's Mid-Term Meeting at the BLET National Division on October 17, 2023.
The Norfolk Southern-Northern Lines General Committee of Adjustment held its Mid-Term Meeting at BLET National Division headquarters in Independence, Ohio, on October 17-18, 2023. The GCA represents about 3,500 active and retired members. Officers from approximately 30 different BLET Divisions were in attendance.

The NS-Northern Lines GCA conducts its elections on a quadrennial basis, and has historically held a Mid-Term Meeting every other year between quadrennials. General Chairman Dewayne Dehart said those in attendance discussed membership concerns, safety problems, and current hot topic issues throughout the railroad. Those in attendance also participated in valuable Division officer training sessions offered by the BLET Education & Training Department.


ARKANSAS: Denson reelected State Legislative Board Chairman
Members and guests at the Arkansas SLB's quadrennial meeting on October 11-12, 2023. Brother D.W. Denson (front row, center) thanked the numerous National Division, GCA, and SLB officers who were in attendance.
Brother D.W. (Wayne) Denson, a member of BLET Division 182 (North Little Rock, Ark.), was reelected to his third term as Chairman at the Arkansas State Legislative Board's quadrennial meeting in North Little Rock, Ark., October 11-12, 2023.

The BLET's Arkansas State Legislative Board represents nearly 800 active and retired members in six Divisions.

Also reelected during the meeting were: 1st Vice Chairman Jeff S. McKenzie, Division 524 (Van Buren, Ark.); 2nd Vice Chairman Norman L. Guitreau, Division 585 (North Little Rock, Ark.); Secretary-Treasurer Earles Carpenter, Division 858 (Pine Bluff, Ark.); and Alternate Secretary-Treasurer Kevin R. Lunnie, Division 278 (North Little Rock, Ark.). The SLB's Trustees are: Jeff S. McKenzie, Division 524 (Van Buren, Ark.); Jason M. Seay, Division 116 (Batesville, Ark.); and Kevin R. Lunnie, Division 278 (North Little Rock, Ark.). Brother Carpenter has served the Board as Secretary-Treasurer since 2013.

Brother Denson was elected 1st Vice Chairman of the Arkansas SLB in 2016 and was elevated to the office of Chairman in 2018. He was reelected in 2019 and now 2023. BLET Vice President & National Legislative Representative Vince Verna thanked and congratulated Brother Denson.
ALABAMA: Sizemore reelected State Legislative Board Chairman
Brother Todd Sizemore, a member of BLET Division 423 (Tuscumbia, Ala.), was reelected by acclamation to his second term as Chairman of the Alabama State Legislative Board at its quadrennial meeting on September 13, 2023.

The Alabama State Legislative Board represents more than 1,200 active and retired members in 11 different BLET Local Divisions.

Also elected by acclamation at the quadrennial meeting were: 1st Vice Chairman David Clinkscales, Division 495 (Montgomery, Ala.); 2nd Vice Chairman James Kinsman, Division 386 (Birmingham, Ala.); and Secretary-Treasurer Terry Mashburn, Division 423 (Tuscumbia, Ala.). Elected to serve the Board as Trustees were: Hayward Black, Division 899 (Birmingham, Ala.); Roger Bickerstaff, Division 684 (Birmingham, Ala.); and Dustyn Willis, Division 280 (Tuscumbia, Ala.).

Brother Sizemore currently serves Division 423 as Local Chairman. He served as Secretary-Treasurer of the Alabama SLB for 12 years. In 2015, he was elected 1st Vice Chairman, and in 2019, he was elected Chairman. BLET Vice President & National Legislative Representative Vince Verna thanked and congratulated Brother Sizemore.
RAIL LABOR NEWS: McCann retires, Dowell elected president as Train Dispatchers conclude 34th General Assembly
Ed Dowell (center) was elected President of the ATDA during its 34th General Assembly on October 17, 2023. He is pictured here along with ATDA's Executive Board and General Counsel.
The BLET sends congratulations to Brother Ed Dowell, who was elected President of the American Train Dispatchers Association (ATDA) during the ATDA's 34th General Assembly in Las Vegas on October 17, 2023. The BLET also congratulates outgoing President Leo McCann upon his well-deserved retirement. National President Eddie Hall represented the BLET at the meeting.

Prior to his election as President, Brother Dowell had served the ATDA as Secretary-Treasurer for eight years and as Vice President for four years. Brother McCann's railroad career spanned 50 years, including six terms as President of the ATDA. He is a fourth-generation railroader.

Also elected was Bill Sikes, who will serve as ATDA's Secretary-Treasurer, along with four Vice Presidents: Brandon Denucci, Kevin Porter, Barry Cross Jr., and Colin Thurman.
Ed Dowell (left) is sworn in as President of the ATDA by outgoing president Leo McCann who is retiring after a 50 year railroad career that included six terms as ATDA president.
UPDATE ON BLET PRIVATE FACEBOOK GROUP: 1,200 members and growing
In August, the BLET National Division launched a new private Facebook group for members-only, which has grown to nearly 1,200 participants. If you haven't joined yet, please take a moment to do so now.

Active and retired members are welcome (but company officials are not eligible to join). Once you join, we encourage you to send Facebook invitations to your fellow BLET friends to help the group continue to grow.

Each individual who makes a request to join has to pass a background check of sorts. Our National Division staff compares each Facebook profile to the information we have on hand through UnionTrack, the union's official membership reporting system. If ND staff members can't verify that you are a member in good standing, then your request will be denied — but with feedback.

If you are denied, you will be given feedback asking you to log in to a special section of the Members' Area of the National Division website to verify your membership. It may take a little extra time and effort to do so, but this extra step is necessary because we are being diligent in our goal to prevent company officials and non-members from joining our private group.

The union has continued to maintain its public Facebook page, but commenting on the public page was disabled effective September 1. Commenting is allowed on the private page. Members wishing to comment on our posts in a protected, private group setting are strongly encouraged to join the members'-only private Facebook group.

We ask for your patience as we continue to build the private group, and we wish to underscore the importance of taking the time to verify your membership in order to join.
PLAN AHEAD: Mark your calendars for 2024 BLET regional meetings
The BLET's 2024 Western Regional Meeting will be held in Kansas City, Missouri, the week of June 3rd. The Eastern Regional Meeting will be held in Washington, D.C., the week of July 29th. More information about each meeting will be announced in the coming weeks and months. In the meantime, please mark your calendars and plan to attend one or both of these meetings next year.
Brotherhood of Locomotive Engineers & Trainmen
7061 East Pleasant Valley Road, Independence, Ohio 44131
PH (216) 241-2630 | www.ble-t.org
If you are a member of the BLET, then please consider signing up for the Members' Area of the BLET website:
members.ble-t.org

Brotherhood of Locomotive Engineers and Trainmen · 7061 East Pleasant Valley Road · Independence, OH 44131 · USA