BLET Weekly News Recap 10-27
The BLET exists to promote and protect the rights, interests, and safety of its members through solidarity, aggressive representation, and education.
BLET WEEKLY
NEWS RECAP
October 27, 2023
Follow the BLET online and stay up-to-date on all the latest union news and information.
Click the icons below to visit the BLET's social media pages and website.
PHILADELPHIA: BLET launches strike vote for locomotive engineers at SEPTA
BLET announced that the union will begin conducting a strike vote for its members who work at the Southeastern Pennsylvania Transit Authority (SEPTA). Engineers who run SEPTA's regional rail trains in Pennsylvania, New Jersey and Delaware haven't had a raise in nearly four years, and the strike vote comes after months of federally-mediated talks have failed to produce any progress toward an agreement. Engineers at SEPTA are already the lowest paid among commuter rail systems nationally. SEPTA also is suffering from staff shortages that lead to train cancellations.

Voting began on October 23 and results will be announced on November 20. A majority vote in the affirmative will not automatically bring about a work action. It authorizes BLET National President Ed Hall to order a work stoppage.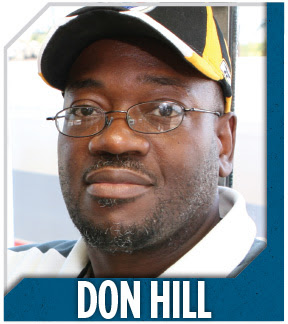 According to Don Hill, who is a SEPTA locomotive engineer and serves as General Chairman of BLET's SEPTA General Committee of Adjustment, engineers have been leaving SEPTA to take better-paying jobs with other rail systems. Hill said there are 159 locomotive engineers on SEPTA's roster when it should be closer to 230.

President Hall backed Hill when he told The Inquirer: "They don't have enough staff to run their trains… [and] they're having to cancel service to the public. It's because they refuse to bring engineers up to what they should be making."

In remarks to NBC Philadelphia, President Hall noted: "The compensation offered on this property is not competitive. The low wages have driven engineers away at a rapid pace, leading to severe manpower shortages."

SEPTA has used managers to perform the work of locomotive engineers to compensate for its manpower shortages. Hill says this gives SEPTA little incentive to train and hire enough locomotive engineers to fulfill its service obligations. Managers can pocket an extra $4,000 per month to perform the work of locomotive engineers by running trains, in addition to their regular salaries. In May, Hill led a large BLET public protest to shed light on SEPTA's manpower shortages and double-dipping by managers.
ATTENTION SEPTA ENGINEERS: When to expect a strike authorization ballot, and what to do if you don't get one
BLET members working for SEPTA will receive a mailing from the BLET National Division next week with voting instructions. The deadline for receipt of ballots is at noon Eastern time on Monday, November 20, 2023. Members who are eligible and have not received a strike authorization packet by Thursday, November 9, 2023, should call the National Division at (216) 241-2630, extension 222. When connected with the extension, please leave the following information:
• your name, address and phone number;
• the division to which you belong;
• the date you were promoted to locomotive engineer;
• your date of birth; and
• the last four digits of your Social Security number.
E-mail requests for ballots will not be accepted because personal information is required to verify eligibility before a ballot can be issued.
RAIL SAFETY: Media focuses attention on BLET's call for maximum train length
The BLET's strong stance against excessively long trains has created a stir within the industry and caught the eye of the nation's railroad trade publications.
(Photo courtesy: Cory Rusch, BLET Division 659)
In an October 9 letter to the Federal Railroad Administration, BLET National President Eddie Hall urged federal regulators to issue an Emergency Order to establish a maximum train length of 7,500 feet.

The BLET's strong stance against excessively long trains has created a stir within the industry and caught the eye of the nation's railroad trade publications.

"In-train forces of longer trains change the ways engineers maneuver trains, BLET says," FreightWaves.com wrote: "The union said setting limits of train lengths is necessary because not all locomotive engineers may be trained or experienced enough to handle longer trains, which could have greater in-train force than shorter trains. The railroads' infrastructure network also might not always accommodate longer trains."

Progressive Railroading reported: "Class Is have implemented longer trains without considering the impact on passing sidings, grade crossings, cross-over switches and proximity to schools and hospitals."

In his October 9 letter, President Hall wrote: "We do not want to wait until the next rail catastrophe to act."
REGULATORY VICTORY: BLET blocks Mexican train crews at the border
BLET VP & NLR Vince Verna filed an objection to UP's petition to move trains across the southern U.S. border. The FRA cited the BLET's concerns when it added that crews taking any train from the border to the UP yard in Laredo would be done by UP engineers and conductors who are FRA certified — not Mexican crews.
(Photo courtesy: Cory Rusch, BLET Division 659)
The BLET's National Legislative Office in Washington, D.C., scored a regulatory win for BLET members this week by blocking Union Pacific's attempt to move trains across the border into the U.S. at Laredo, Texas without stopping under certain conditions.

UP interchanges with foreign-owned railroads at the U.S.-Mexico border crossing in Laredo. Under a previous administrator, the Federal Railroad Administration (FRA) gave an additional condition on the regulatory extension for Union Pacific to use foreign train crews to move trains approximately 11 miles into the United States.

FRA cited BLET's objections to UP's petition for a waiver extension (FRA Docket Number FRA-2007-28339). BLET Vice President and National Legislative Representative Vince Verna filed the objection on December 27, 2022 on behalf of BLET.

The FRA mentioned BLET's concerns regarding the need to stop Mexican train crews from operating on American soil. FRA granted UP's waiver extension, but clarified in an additional waiver condition that crews taking any train from the border to the UP yard in Laredo would be done by UP engineers and conductors who are FRA certified — not Mexican crews.

Specifically, FRA added the following requirement in granting UP's waiver extension: "All trains crossing the international bridge at Laredo and destined for UP's Port Laredo Yard must be operated from the bridge to that Yard by a properly qualified and certified UP locomotive engineer and conductor."

Vice President Verna cited the need for vigilance on the issue. He said the waiver is extended for five years, but warned that UP and other railroads operating at ports along the southern border will likely attempt to find work-arounds that test the strength of Part §240 Engineer Certification and Part 242 Conductor Certification. The extension of the waiver comes up for renewal in 2027-2028.

"Viva Verna," said BLET National President Eddie Hall. "This regulatory win was due to the diligence and solid work by Brother Verna and his team at the National Legislative Office. This is a victory for BLET and all of our members who work along the border with Mexico."
EDUCATION & TRAINING: Local Chairmen complete workshop
The BLET hosted a Local Chairman class at the National Division this week. The in-depth training helped members develop and enhance the skills necessary to provide the best representation to BLET members.
This week, the BLET National Division hosted 26 Local Chairmen for a training class at National Division headquarters in Independence, Ohio. The in-depth training helped those attending to develop and enhance the skills necessary to provide the best representation possible to BLET members.

The lead instructors were BLET Vice President Randy Fannon and Director of the BLET Arbitration Department Doug Davidson. Course topics included, but were not limited to: Representing members at disciplinary hearings, union leadership skills, claim/grievance handling, arbitration, along with appeal and letter writing. Instructors also provided an overview of the Railway Labor Act, including Section 3 and Section 6 Notices.

BLET National Secretary-Treasurer David Estes, who heads the BLET Education & Training Department, said: "Our Local Chairmen are the first line of defense in protecting the rights of our members and enforcing BLET contracts. It is a tough job and these union officers deserve our support and respect. Congratulations to the Brothers who successfully completed training this week."



LAST CALL: Deadline to enroll in 2024 Health FSA program is at midnight on October 31, 2023
The Heath FSA lets you put pre-tax dollars deducted from your paycheck into a special account to use for medical expenses.
From now until midnight on October 31, 2023, you can enroll or change your Medical or Health Flexible Spending Account (FSA) benefit selections for the 2024 benefit year. Members must enroll in the Health FSA every year — FSA enrollment is not automatic each year, and interested members should act soon so they do not miss out on enrollment for the 2024 Plan Year.

The Health FSA lets you put pre-tax dollars deducted from your paycheck into a special account to help pay for eligible medical, pharmacy, dental and vision expenses.

Your Track to Health is your online enrollment site — it provides the ability to view your personal information, update dependent information, view enrollment materials, or opt out of coverage. Go to www.yourtracktohealth.com or www.ytth.com to learn more. If you need further assistance, please call Railroad Enrollment Services at 1-800-753-2692 (Monday-Friday, 8:00 a.m.-8:00 p.m. EDT).

Read the full story here.
RAIL LABOR NEWS: Devita retires as Fireman & Oilers president, Pistone elevated to top office
Dean Devita announced his retirement as president of the NCFO last week. The NCFO Executive Board has voted Michael Pistone to fill in the remainder of his term. Pistone was serving as the Secretary-Treasurer prior to his elevation.
Brother Dean Devita, President of the National Conference of Firemen & Oilers, 32BJ, SEIU, announced on October 19 that he is retiring effective December 31, 2023. Brother Devita became President of the NCFO on October 1, 2020. He was one of the featured speakers at the BLET's 150th anniversary celebration in Detroit in 2013.

On October 9, 2023, the NCFO Executive Board voted to merge the Secretary-Treasurer position with the President's position. The NCFO Executive Board voted Michael Pistone to fill the remainder of the current three-year term.

Brother Devita has been a member of NCFO for over 35 years. He said: "I am extremely confident that President Elect Pistone and his team will move forward our union to protect our members for decades to come. I want to thank the NCFO members for allowing me to lead this great union. It is a great union, only because the NCFO has great members who make it a great union. God Bless the NCFO and God Bless the Labor Movement."
BENEFITS UPDATE: Payment rates for H&W plans will not increase in 2024
On October 26, members of the Cooperating Railway Labor Organizations (CRLO) and the National Carriers' Conference Committee (NCCC) convened to review the monthly payment rates for the nationally negotiated health & welfare Plans including medical, dental, vision, and life/accidental death & dismemberment (AD&D) benefits. This was an anticipated review of rates with United Healthcare, which takes place towards the end of October every year over the life of the National Agreement.

There will be no increase to our members' monthly contribution rate for 2024. The cost-share cap will remain at 15%. The contribution will remain at its current rate of $309.21 for the entirety of 2024.

The yearly $1,000 lump sum to each member, achieved in the most recent National Agreement, was intended to offset any increase to the employee monthly cost sharing payments. With no increase in payment rates for 2024, the result is more money in our members' pockets.

The CRLO is a group of 12 Rail Labor unions that sit together to oversee the collectively bargained health and welfare benefits contained within the National Agreements, on behalf of railroad members.
Brotherhood of Locomotive Engineers & Trainmen
7061 East Pleasant Valley Road, Independence, Ohio 44131
PH (216) 241-2630 | www.ble-t.org
If you are a member of the BLET, then please consider signing up for the Members' Area of the BLET website:
members.ble-t.org

Brotherhood of Locomotive Engineers and Trainmen · 7061 East Pleasant Valley Road · Independence, OH 44131 · USA